Winner of the HR Employee Wellness Valentine raffle draw (dinner-for-two) ticket reflects on his experience at the Jabbama (Fulfulde for "welcome") Restaurant.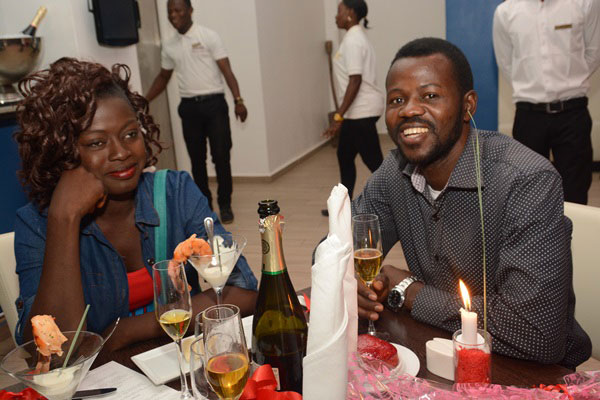 On the Valentine Day eve this year, my friend of several years wished me a happy Valentine's Day.  Then it dawned on me that February 14 was as close as my shadow.  I had not even figured out what gift I would buy for her.  In the early hours of the 14th, her request that I be her Valentine caught me napping and set me thinking.  In any event, I could never have imagined us being on the Jabbama Restaurant Lovers' Board.  It would become my first day of celebrating Valentine's Day.
In all my life, I never believed in a day set aside to express one's love.  I had always believed that every day is for love and vice versa.  If I had not received that be-my-Val SMS, I might have attended the Valentine raffle draw only as a duty reporter.  Actually, I had never done any raffle draw before.  I guess I was probably so much in love that I could not say no to attending.
I am finding love again seven years after my undergraduate days.  I thank my instinct for leading me to go for the raffle draw.  While it may appear that I just wanted to try my luck, I think, in retrospect, that I was moved to go by an invisible force.
Now, I am happy because finding love is coming after realizing one of my three major goals for this year.  I need no further sign that I could be lucky achieving the other two.
My Val and I had a very special treatment at Jabbama and I thank the Employee Wellness Program (EWP) for this awesome opportunity.  The experience is adding to other recent experiences that tried to pull me out of my shell, after five years of battling in a world of uncertainty. The friendly disposition of staff members at the AUN Hotel is commendable.  I find them to be very receptive and willing to help their customers.
The Valentine evening at Jabbama Restaurant will remain in our memories for long.  The ambience of the restaurant was very welcoming, as the name Jabbama implies.  So were the romantic meals.  The candlelit table and bottle of wine that complemented the meal added to the romantic atmosphere in the restaurant.  I need not tell you that the music selection from the DJ spiced up the experience; it was blues like never before!
My Val adored the colorful rose flashlight she received at the dinner.  
Now the moral of my story: you may not believe in Valentine's Day, but when Cupid's arrow hits your heart, it could very well be irresistible, and you will be forced to change your belief.
I now appreciate a day when the talk of love is in the air.  And I will remember Jabbama.


By Omorogbe Omorogiuwa (with Love from my Valentine)