On April 4, the Office of Sustainability held its exhibition at the Robert Pastor E-Library Lobby.



The exhibition and sales were to promote products created through the Waste to Wealth and Creating with Thread initiative, an AUN-incubated enterprise.

Yola EcoSentials (YES) is one of the many sustainability initiatives that encourages and educates many on how to be creative by making something useful out of things that are regarded as trash. The items were made by community women in Yola.  Students, staff and faculty members attended the exhibition.


At the exhibition, interested buyers moved around the exhibition stand with their eyes fixed on the various items on display.  The items were made from different colors of polythene bags and cloths, each with a price tag on it.


"I bought this bag for my mom because you don't get to see something like this anywhere, it is unique," said David Aboderin, a 200-level Entrepreneurship student who attended the exhibition.



The products displayed include handbags, laptop bags, key holders, table and foot mats, all made from polythene nylon bags that are otherwise littered on the streets or picked from refuse dump sites, while some of the other bags and foot mats displayed were made with pieces of clothing material discarded by local tailors.


Mrs. Evelyn John, Marketing Assistant for the YES initiative, said, "The story behind the products and how they are made encourages people to buy.  We are having good and encouraging patronage.  Ten percent from each item sold here is taken back to the Office of Sustainability."


Mrs. Elizabeth James, a widow and mother of seven, is one of the community women whose products were displayed at the exhibition.  She was among the first group of women trained by the sustainability initiative.  "If someone had told me before now that I can make a fortune from ordinary polythene bags, I wouldn't have believed it," she said.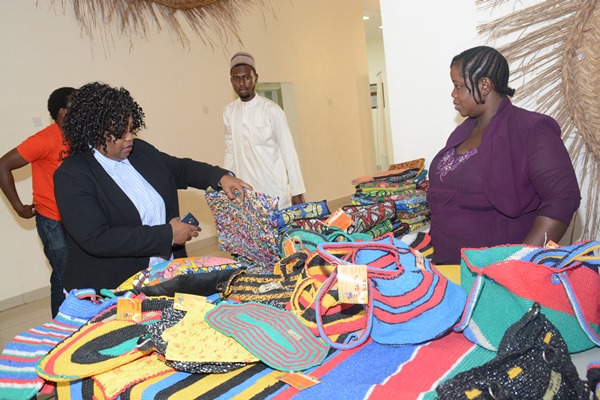 This particular exhibition and sale is the first in 2017 and the third exhibition done so far.  The show lasted three days.


By Nubwa Ibrahim