One hundred and fifty women from the surrounding communities have graduated from a skills and literacy training that was organized by the AUN Community Service office.
The three-month skills and literacy training, which started late last year for this batch of women, ended on April 12 with a graduation ceremony.
Samples of their handiwork were on display at the training center in Yola.  The items included nylon bags, video tape bags, leather bags, slippers, shoes, wall mats, doormats, tablemats, laptop bags, and tablet and liquid soaps.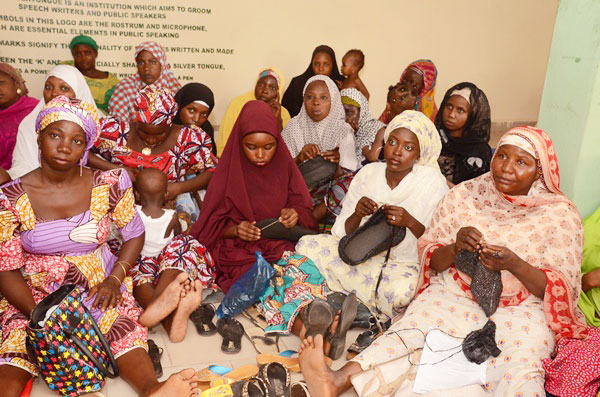 The Assistant Director of the Community Service, Ahmed Aliyu, said that AUN, in collaboration with the National Directorate of Employment, sends 10 to 15 best trainees for advanced training where they will be taught hairdressing, fashion and design, and handset repairs.
He also added that the training for the next batch of women would commence in May.
A 32-year-old mother of two, Hadiza Aminu, who has a diploma in legal studies, told how she had been at home for more than seven years since graduation.  She said that because of this training, she could now make shoes and soap for her children and her husband.  She also makes and sells these items.
Another beneficiary, Ms. Yakubu, a 22-year-old WAEC holder, expressed her joy on how she can now make most of these items like the slippers she was wearing.  Although she could not afford to continue her education to the tertiary level after writing WAEC, she hopes to do so in the future.  She advised young girls like herself, especially those who go into early marriage, to go to school as well as learn a handcraft.
Mrs. Binta Ali, a 32-year-old NCE holder and mother of four, said that she has searched for a job for 10 years without success. Now she can now make key holders, bags, shoes, dresses, and soap.  She said that with ₦2, 000 you can start making soap.  "I started making soap with ₦5,000 and made a profit of ₦2,200…and with that I can support my family."  Mrs. Ali said she is faced with the challenge of raising capital to start her own business now.


By Nubwa Ibrahim