On May 9, to prevent the spread of the deadly "Type C Meningitis," Mr. AUN Kazayet Zachariah, Miss AUN Mbali Mokgatla, and Miss Stallion Kebone Mofokeng, spearheaded a free meningitis vaccination exercise for internally displaced persons at St. Theresa's Catholic Church, Lugere.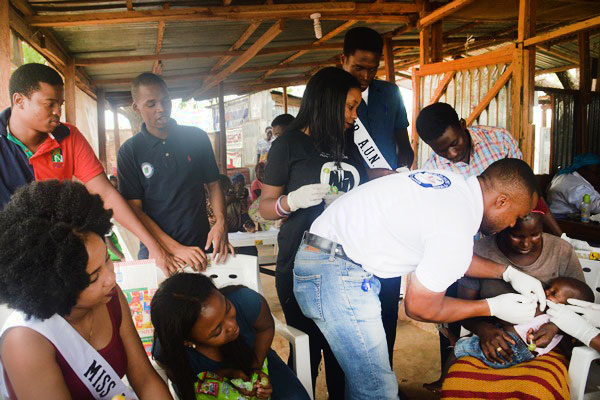 Meningitis is the inflammation of the lining of the brain and spinal cord.  It develops very fast, and can cause victims to go blind or deaf, or even to death.
Through a raffle drawing the royals raised N132, 000 used to procure the vaccines, said Miss Stallion.
With the support of the AUN Health Center team, about 235 internally displaced children and adults received shots of the vaccine.
Miss AUN said that for them the project was an avenue to give back to the community.  She explained that at the fast rate at which the disease is spreading, "It will be difficult to reach a great number over a short period." She said this was why IDPs were their primary targets.
On the queue to receive the vaccine was 18-year-old Solomon Bitrus of Government Day Secondary School, still in his school uniform.  He left class to get his shot.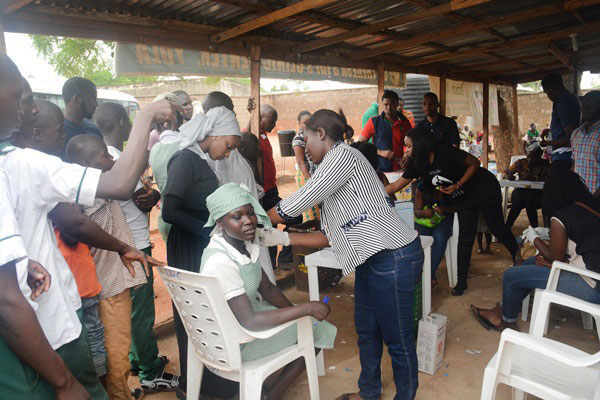 Bitrus recounted how a neighbor in his village - Gava, Borno State - contracted meningitis.  He was aware of the dangers of the disease if not curtailed in the camp.  He earnestly thanked the students, as many of the IDPs clearly could not afford the vaccine themselves.
A volunteer nurse at St. Theresa's IDP Clinic, Ms. Isabella Ottih, said the exercise was very important. "If you see the type of place they sleep, very congested with poor ventilation...."  She described the students' effort as "awesome."
By Nelly Ating