Senior Ball has belonged to pre-commencement activities since 2011 when Dean of Student Affairs Byron Bullock first introduced it as part of graduation activities.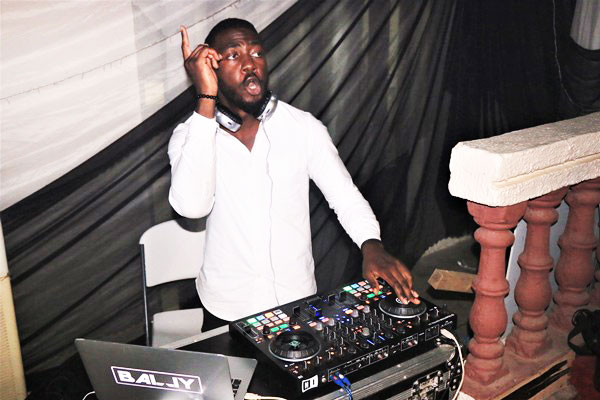 The formal party is usually the last a student will experience at AUN before he or she graduates.  It is always a part of the Senior Week on the eve of the Graduation Awards Dinner.
A unique feature of this year's ball was the second coming of Bobai "DJ Bally" Ballat as an artiste.  His first time was as a graduating senior.  The decoration of the hall and the fireworks created an irresistible setting.  The acoustics of the hall were as good as usual, as was the music that emanated from the sound system.  The Big Brother Naija participant was there to send cool vibes through the air.
The event featured a red carpet where students posed for photographs.  Before DJ Bally started, Mr. Olumode David Adeboye with his Galaxy band entertained the audience with his saxophone, setting the stage for the formal dance.


Then came the moment when the dance was to start.  Before proposing his own toast to the students, Dean Bullock called on the new SGA president, Idris Mamman, to give his farewell toast.  President Mamman reminded the graduating students that college life would soon be over.  "You are not Stallions because you pass through AUN; you are Stallions because AUN has passed through you."
"Today, the student body bids farewell to great leaders, great people, beautiful memories, and special and wonderful times we had together."
"And more importantly," he continued, "the world, says 'Welcome' to great future leaders, handsome politicians, great business leaders, and even celebrities."
The audience had their wine already in their glasses as they waited.  "To the good memories, to the great times we spent together, to greater times ahead, to nicer times, Class of 2017 - Cheers."
Dean Bullock was last to propose his toast:  "I would like to say when you graduate on Saturday a part of me is going to graduate as well, because for the past four years I have had an opportunity to spend an incredible amount of time with some of the best people I have ever seen on the planet."
By Omorogbe Omorogiuwa