How a student initiative is helping to bridge ICT knowledge gap among secondary school leavers in the AUN host community.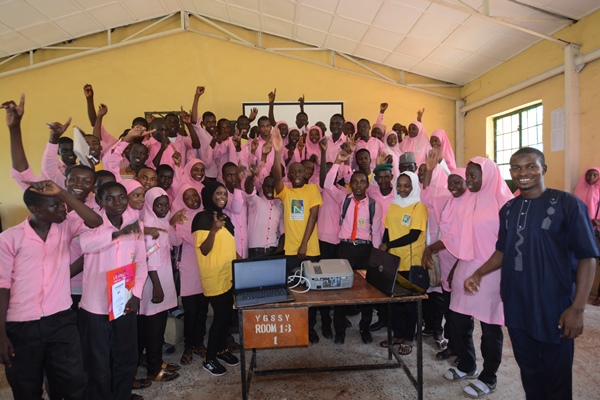 Computer knowledge and usage are still very low for many secondary school leavers.  This tends to hinder them from furthering their education since the Unified Tertiary Matriculation Examination is now computer based.

Final-year Software Engineering major Abubakar Musa Bala has identified this gap and is committing time, effort, and financial resources helping to bridge it.

Bala is one of the students on the scholarship of the Kano State government.  He was admitted to study medicine at Bayero University, Kano, but opted to come to AUN, initially to study Natural Environmental Science.  "But after my first CIE 101 class, everything changed.  I decided to pursue a career in Software Engineering because I like programming."

In the early hours of Friday, September 29, Mr. Bala and a team of volunteers were already set with their laptop computers, PowerPoint projection screen, generator, and printed information handbills heading for a training seminar which they organized for final year students (SS3) of Aliyu Mustafa College, a neighboring secondary school in Yola.

The training covers such basics as recognizing parts of the computer such as the power button, how to power the computer, how to hold and use the mouse, recognizing the difference between desktop and laptop computers, and how to start and navigate an application.  In the second week, the volunteers intend to do the computer-based test CBT training before proceeding to other schools.

The project to train school leavers in ICT and CBT is being executed by the AMB Foundation, a non-governmental organization (NGO) initiated by Mr. Bala this semester.  It is held in collaboration with the Office of Community Service.  His mission is to train students in secondary schools in Adamawa on computer basics that can enable them to operate one and learn how they can use it for CBT exams.  He also plans to extend it to neighboring states.

For the CBT training, the team will be using a CBT application developed in Kano Steadfast Tech, a software company.  The app contains more than 7,000 past Joint Admissions & Matriculation Board questions.  

"I am using the software with the permission of the Steadfast Tech CEO, who has agreed to give me the license at a lower price.  However, I plan to develop free software of my own in the future."

Mr. Bala said the inspiration to set up the NGO came during his three-month internship in Kano this year, when he was in a CBT center and observed a candidate for the UTME struggle with a mouse for minutes after kickoff.

Students who have similar plights are many.  And Bala would keep thinking how he could help.

Another inspiration for Bala is the poor performance of students in this year's JAMB UTME, resulting in the reduction of the cut-off mark to 120 from 180.  "From the research I conducted online, most of the failure is due to computer illiteracy and absence of guidance."

In his desire for a solution, Bala has since gained the support of friends and faculty members.  His friends' sacrifice not just their time but also funds as volunteers to help in the practical demonstration of computer manipulation.  As the initiator, most of the funding is still coming from his pocket, he said.  The training brochures were printed free from the office of Dean Byron Bullock.  Dr. Abubakar Hussain, Dr. Osho Ajayi, and Engr. Emmanuel Nicholas are faculty members who have rendered very useful advice as mentors, he added.

Before kickoff with more than 150 trainees, Bala also gave students a sensitization talk on the benefits of ICT in their career pursuits.  He said that besides helping them to gain admission, ICT knowledge and skills can facilitate getting jobs and sitting for scholarship examinations at AUN.
The Office of Community Service intends to continue the project after Bala graduates.

Mr. Eric Nwigwe, a mathematics teacher at Aliyu Mustafa College who observed the one-and-half hour training, said it is a laudable project.  He said it is very enlightening for the students, many of whom have neither seen nor used computers before.

By Omorogbe Omorogiuwa