On February 28, the University Relations Division organized a send-forth in honor of Abdullahi Umar, a driver who has served in the division since 2011.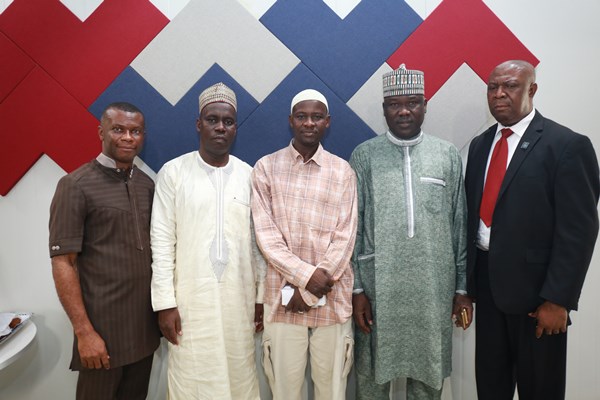 Division's head, VP Abba Tahir, had many kind words for Mr. Umar who has driven him for seven years.
"We have become family; he has served me as more than a driver. He has been a logistics person, an administrative person, a family liaison person, a public relations officer, and everything."
He said it is sad to let go such a dedicated staff member.
"This moment is a moment of positive transition. Human beings have to move; it's either you move forward, or you move backward. This is a forward movement. We are so excited about that."
He said Umar would be representing AUN where he is going. "Umar is going to carry our mantle in terms of relationship, in terms of connecting, in terms of engagement, in terms of service to the new place."
Appreciating the camaraderie and work ethic of the outgoing driver, the Director of Communications, Innocent Nwobodo, urged staff present to live and work well as teammates so that colleagues won't have to lie at their send forth.
In a similar vein, the Senior Director PR & Marketing, Yusuf Mohammed, described the effectiveness of Umar, wishing him all the best in his transition to greener pasture. "He is more of an assistant than a driver. He is always at our beck and call."
A Software Engineering graduate intern in the Communications Office, Akim John, said he found him a daily companion. "Every day I come to work, I look forward to meeting him."
The division also showed its love and appreciation with a gift to Umar. Making the presentation, the Executive Director of Communications & Publications, Daniel Okereke, who congratulated Umar on his new job and thanked him for his steadfastness, loyalty, and attitude to work, charged him to fly the Division's flag in his new place with the same commitment he showed at AUN.


Reported by Celine Augustine