On March 1, staff of Student Affairs Division organized a surprise party to celebrate VP Byron Bullock's seven years of meritorious service to AUN.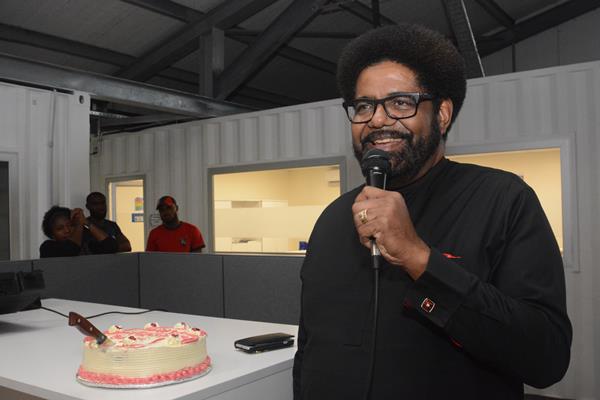 It was a moment of candid reflection for the staff, after which the celebrant cut the anniversary cake.
Senior Resident Director, Adamu Umar, said VP Bullock introduced the American model of student development to AUN. He also created new departments and units in the division as well as student organizations such as the Office of Student Activities & Involvement (OSAI) and Campus Activities Board (CAB).
"SGA activities are now better recognized on campus than before."
Alumni Relations Coordinator, Peter Paya, said VP Bullock brought a new dimension to dealing with students. "Taking the Judicial Affairs to be on its own gave students more confidence and confidentiality that they can enter the office of students affairs and meet a father they can talk to and feel that someone is always there to listen to them. It was a great achievement."
Former SGA President, Abdulrahman Bappullo, said his philosophy of student development is one that every institution in Nigeria needs. He explained that the Emerging Leaders Academy program which Mr. Bullock brought to AUN is transformative.
"You are a father, a friend, a motivator. The ELA is building an army of leaders. You are a blessing to Nigeria, Africa, and the world."
Resident Director, Muhammad Nur, described him as reliable and dependable. "You always listen to everyone irrespective of where you are coming from. We wish you more happy staying in AUN."
Director, Business Operations & Immigration Services, Anthony Okoji, said his personality shows in his leadership. "When you see something, and you don't think it is right, you are not going to sit down and let it go. That standard you brought to AUN, that way of doing things, your personal beliefs, your ethics, and character have impacted the entire community."
Director of Career Counseling & Placement, Mrs. Grace Nwokoma, pleaded with him to consider spending seven more years because he was called by God to intervene in Africa.
"Every day you meet him, you learn new things. He is a Godsend. The very first day we saw him, we were assured. This is a father figure, he looks it, and he commands it. He is accommodating, not just to us but our families."
Executive Assistant to VP Admin, Christiana Itinam, said she owes so much to Dean Bullock for the transformation in her life.
"Not only have you been a fantastic mentor to me, but you have also taught me how to mentor people and how to lead people. Thanks for being such a great role model. For every time we disagreed, you still pat me on the back and make me feel good again."
In his remarks, VP Bullock observed that staff of the Division have contributed to making student development a beautiful and pleasant experience.
"What I have learned in the last seven years, while I have tried in every way possible to educate and develop staff and to bring them along and encourage them and inspire them, you all have done those things for me in new ways and have kept me here this long."
He remarked that he had learned so much about Nigeria during these seven years. Although he had initially wanted to turn the job offer down, he is happy that he never did.
"I have always wanted to work in Africa, and it was an opportunity for me to do so. I feel like I am Nigerian."
Reported by Omorogbe Omorogiuwa