In a bid to gather better information and strengthen their advocacy programs, two pro-environment groups of the Community Development Service under the National Youth Service Corps (NYSC) visited the campus on March 13, where they were exposed to various sustainable practices and initiatives of the university.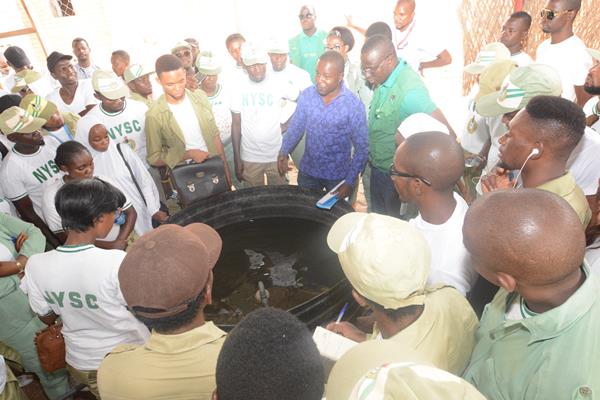 At the recycling center, the 60 members of Environmental Protection & Sanitation and Sustainable Development Goals were received by Acting Manager, Sustainability Programs, Raymond Obindu, who gave them a brief of how the program started in 2012.
Here, they got insight from AUN Waste Manager, Matthew Adedoh, on how wastes are separated into different components. They were also shown a building that is made with eco-bricks. They saw how recycled papers are used to make furniture items and were shown eco-fuel cooking briquettes and a machine fabricated to produce biodiesel from jatropha oil and waste cooking oil.
Sustainability Field Research Manager, Rotimi Ogundijo, explained to the delegation that AUN helps train Internally Displaced Persons (IDPs) on how to use conservative agricultural practices in their farms without the use of fertilizers through use of compost and sustainable land preparation techniques.
Joseph Oladimeji explained the aquaponics system and they learned how water for fish farming could undergo natural purification means. After that, Mr. Ogundijo gave the corps members a brief capacity development lecture at Washington Hall.
Grant Administrator Audu Liman said they should see their visit as an opportunity to understand global development and how AUN helps develop its community using local solutions, a reason why, he said, the United Nations and its agencies partner with the University for Project Intervention in the North East region.
"One of the solutions the sustainability unit has found is how to use waste materials to create alternative resources."
He encouraged the corps members to imbibe sustainable practices such as opting for baskets instead of plastic bags, for example, as it can reduce polythene bag littering, thereby creating an environment free of such litter.
"It is one of the interventions that you can do yourself. You don't need anybody to tell you."
President of the Environmental Protection & Sanitation, Cyprian Ogban, said they found the visit impactful, adding that AUN is critical to their plan to sensitize people in Yola on sustainable practices and environmental protection.
All members of the team later joined the STARS club in their Energy Campaign that was held on the same day.
Reported by Omorogbe Omorogiuwa