It was a renewed celebration of love on April 20, when the University Relations division hosted its industrious Senior Press Officer, Omorogbe Omorogiuwa, and his heartthrob, Ehimwenma, to a formal reception.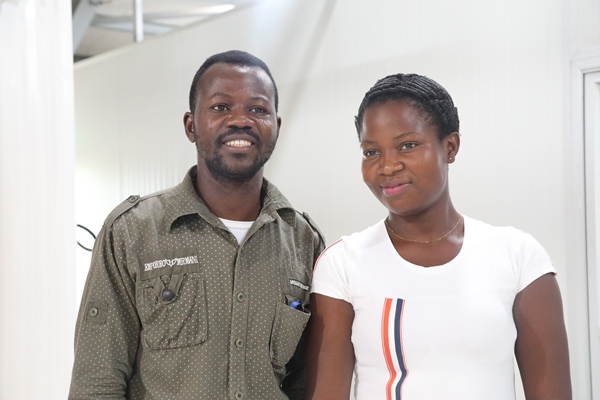 An extraordinary day it was as Mr. Omorogiuwa, an alumnus from the pioneer class with a BSc in Economics, found himself not reporting the news for once but as the cynosure of attention. Self-effacing Bini prince and friend to all, Omorx, as he is better known on campus, joined the Division in 2011, rising through the ranks to become a formidable player in the Communications team.
The reception was attended by senior officials of the University as well as friends and colleagues of Omorx from within the division and beyond. Speakers at the event showered encomiums and testimonies on Mr. Omorogiuwa's work ethic, diligence, resilience, and level-headedness in the workplace.
Executive Director of Communications and Publications, Daniel Okereke, said he was overjoyed that Mr. Omorogiuwa has finally found a life partner. He said one of his joys is seeing his young staff members settle down in life, become responsible, and get alternative perspectives to everyday issues.
"I hope you begin a fresh journey in life from here; that this marriage brings you peace, joy, and happiness because a happy Omorx is a happy UR division."
Director of Communications, Innocent Nwobodo, expressed confidence that the groom will extend the same unwavering faithfulness and dedication he has for official work to his matrimonial duties.
Also at the reception was the Vice President for University Relations, Abba Tahir, who first hired Omorx on graduation. The VP disclosed that he is one of the people privileged to see Mr. Omorogiuwa grow to a responsible and hardworking gentleman that he is today. He urged the couple to remain steadfast and loyal to each other, as marriage is a life-long contract that requires meticulous nurturing from both sides.
Reported by Bashir I. Bashir