Kibikiwa Melsi Alfred was treated to a farewell party by the Information Systems Department on Friday, April 20, after completing her one-year mandatory national service with the department.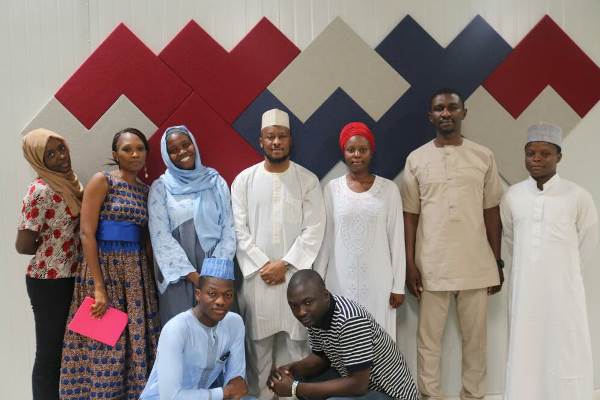 It has always been the tradition at AUN to celebrate corps members, interns, and outgoing staff or faculty members who serve the institution.
Ms. Melsi is a graduate of Computer Engineering from the University of Maiduguri in Borno State.
She started her service year at AUN in Oct 2017, as a Business Analyst with the Governance Architecture Compliance unit, and passed out in April 2018.
The Enterprise Architect of the department, Mr. Chijioke Kalu, said Ms. Melsi had been an incredible resource to the Governance, Architecture and Compliance Unit. "She joined us at a time we needed a resource to fill a position of a Business Analyst. She has done so well, and we thank her for the time she has shared with us."
The outgoing Corps member was overwhelmed by the goodwill messages she got from her colleagues and other staff. She expressed gratitude to all the people she worked with, especially Mr. Kalu. "Working under Mr. Kalu was a good experience. He is a kind of person everyone would like to work with, and I would love to work with this set of people again if given the opportunity."
Mr. Amir Isah Muhammad who is still serving with the IS said, "Working with Melsi has been much of a positive income to me. I have learned a lot from her. Her ideas have helped me in the completion of a lot of projects."
Dimeji Adegbenro, also of Information Systems, also said Melsi had been very important to the team and described her as a future analyst.
Report & Photographs by Chiedozie Joseph