"At a first glance, I saw beautiful products displayed and was wondering what machines were used to fabricate all of these items. I was told that they were locally made by community women."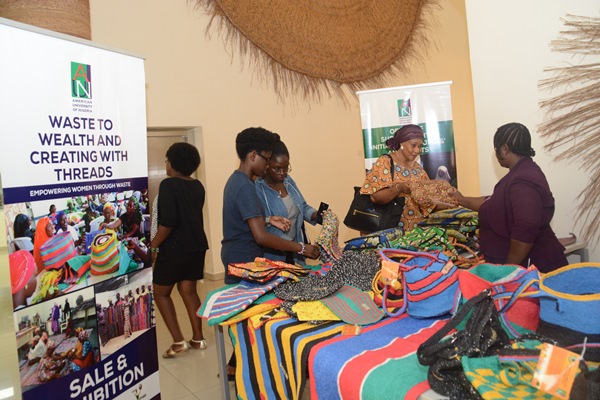 With the above comment, Aliyu Bukar, a freelance journalist from Bauchi, said he came in to visit a friend who works at the library and coincidentally, it was the Yola EcoSentials (YES) exhibition and sales day at the library lobby on April 25.
The items displayed were accessories including foot mats, table mats, purses, key holders, laptop bags, bags, handbags, pen/jewelry holders, nylon bags, Ankara, and nylon products.
They are made by community women and beneficiaries of AUN's empowerment program and marketed by YES, a business group managed by the Sustainability Office.
Mr. Bukar carefully went through the items one after the other; it was very obvious that he had never before seen such creativity by local women.
"What baffles me is that community women can make something out of waste materials, sell them, and make money."
Mr. Bukar said he wants to pick two laptop bags for his siblings and a bag for his sister.
Acting Manager of Sustainability, Mr. Raymond Obindu, said the products were made from cutoffs from Ankara materials collected from tailors. They are produced locally with crotchet, and some are handwoven.
"The products displayed here today were made from waste nylon bags that litter the environment. We have some at the recycling center; the women come, pick some, clean them up, and make something out of them."
Mr. Obindu said each item has a price tag. "When you pick it, you already know the price, and the money goes back to YES, who are responsible for making all than you see today. We only help them market and sell."
Law major Naomi Somiari was at the exhibition stand to buy a round mat. She said what attracted her was the colorfully displayed products. "The fact that the product is handwoven, creatively made, and very colorful is why I choose to buy. It is made with Ankara material, giving it that African touch."


Reported by Nubwa Ibrahim