Evgeny Arkhipov, who joined SITC from Russia in 2014 as lab teaching instructor, said he would remember these four years of stay in Nigeria for the rest of his life.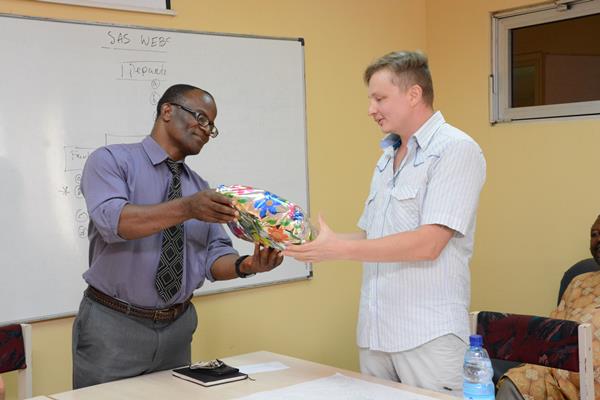 "It is my first experience to work in such a culturally diverse country, and in Africa."
Mr. Arkhipov said he found his colleagues to be very supportive. "They are like family members, and they are helpful. This is what I like about AUN."
Commenting on his leaving, he said he was satisfied with the level of work he had done, and thought his colleagues were okay as well. "Four years, I think it is enough, and I think it is time to move on."
The May 3 occasion was an end-of-academic-year appreciation lunch organized by Dean Mathias Fonkam for all SITC faculty members, but with a special emphasis on the Evgeny exit.
The dean noted that one of the very first SITC faculty members hired in Fall 2005, Dr. Sergey Butakov, was also a Russian; he contributed so much to the School in those early days.
The dean said Evgeny was recommended by another Russian faculty member, Mr. Alexey Vedishchev, who, happily, is staying on. He added that SITC has always valued this special link with Russia and maintain it. To Evgeny, the dean said, "We value your work a lot, and we will all miss you. Our doors will always be open for you or another great talent you can find for us from Russia."
Everyone at the gettogether wished Mr. Arkhipov well, who later received parting gifts.
"It's hard to say goodbye," remarked Dr. Abubakar Sadiq Hussaini (ASH), who assured Evgeny they would stay in contact online.
Dr. Abel Ajibesin quoted a great Nigerian leader, Obafemi Awolowo: "'If we are related, we will continue to meet and meet again. I believe we are related, so we will continue to meet.'"
Mr. Vedishchev, the other faculty member from Russia, said he found it a pleasure working with Evgeny. "We've always supported each other; I find him not just a friend but a great colleague."
Mr. Emmanuel Nicholas of the Telecommunications program, who shared an office space with Evgeny, described him as a great professional who always minds his own business.
Dr. Chidi Ononiwu of the Information Systems program said he hoped Evgeny had enjoyed the Nigerian culture, weather, and other things. He will now be one of Nigeria's ambassadors in Russia. "...Tell them some good things about us."
Dr. Babatunde Ogunleye confessed that he didn't have so many interactions with Evgeny but added that from the few times he listened to his seminars/workshop presentations very brilliant. "You have been an asset to this School, and we are going to miss you."
Ms. Chioma Anadozie, also of the Information Systems program, said that she once had a programming challenge and went to Evgeny for help. She was amazed at how he simplified complex concepts.
Dr. Charles Nche said hiring talents like Evgeny was one of the best decisions SITC made. "I hope we can find someone of your talent to continue to play the critical functions that you and Alexey have provided SITC."
Dr. George Thandekkatu shared that Evgeny and Alexey had visited him in India and even spent some time with him there.
Eze Professor Anele Nwokoma of the Information Systems program gave words of blessings to the leaving faculty member. "Wherever you go, let people find favor in you."
Reported by Omorogbe Omorogiuwa