Natural & Environmental Science
Develop an advanced understanding of the natural environment through interdisciplinary scientific education and research. Natural and Environmental Science sits within the
School of Arts & Sciences.
The Bachelor of Science program in Natural and Environmental Sciences provides an advanced understanding of the natural environment through interdisciplinary scientific education and research.
When majoring in Natural and Environmental Sciences, students will choose one of three concentration areas:
Conservation Biology
Environment and Health
Biomedical Sciences
Conservation Biology
focuses on conservation issues that affect wildlife and habitats. The protection and preservation of the natural world has become a growing concern worldwide. It is an especially urgent concern in Africa because of its high rate of human population activities that disturb the environment.
Environment and Health
focuses on understanding the biological and physical world, man-made pollutants released by human activities, and the impact of contemporary societal activities on human health. Through the choice of electives, students can personalize their program to emphasize either the sources of pollution and their measurement or the biological processes within the human body affected by health and disease.
Biomedical Sciences
provides an advanced understanding of biology with a special focus on human biology. This program is designed for students who wish to further their career in the health professions: medical practice, nursing, public health, physical therapy, pharmacy, veterinary medicine, etc. It is also the degree of choice for students wishing to further their education at the graduate level in biotechnology, molecular biology, cell biology, biochemistry, microbiology, public health, and similar health fields.
All three concentrations provide comprehensive foundations in natural scientific inquiry through courses in biology, chemistry, toxicology, physics, and those directly related to the environment and ecology. All three concentrations prepare students for meaningful employment and for further studies at the graduate level.
The Conservation Biology concentration prepares students for positions as researchers, advisors, and administrators in such organizations as:
Universities and research institutions
National parks
Ministries of forestry and wildlife
Governmental agencies
Non-governmental organizations, both Nigerian and international
Eco-tourism organizations and businesses
The Environment and Health concentration prepares students for careers in:
Universities and research institutions
Petrochemical industry
Environmental consulting and management firms
National and state government agencies managing health and environmental issues
Regulatory agencies that monitor industries for pollution
Agrochemical industry
Waste management
Electrical power plants and other utilities
Municipal waste treatment facilities
Industries and manufacturing companies
The Biomedical Sciences concentration provides the foundation for students wishing to continue their studies in medicine and health-related graduate programs. It will prepare students for careers in:
Universities and research institutions
Governmental agencies
Non-governmental organizations, both Nigerian and international
Hospitals and health clinics
Available start dates
September 2018 / January 2019
Course Duration
Full Time: 4 years
Visit our admissions page for full application details.
Call: +234 805 200 2962
E-mail: This email address is being protected from spambots. You need JavaScript enabled to view it.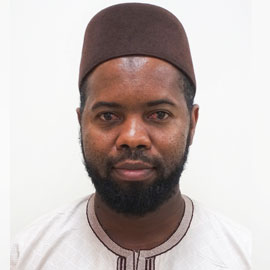 Program Chair
Hayatu Raji Muhammad
Assistant Professor
This email address is being protected from spambots. You need JavaScript enabled to view it.