Telecommunication & Wireless Technologies
Gain the fundamentals needed by every telecommunication and wireless engineer in the ever changing wireless industry. Telecommunication and Wireless Technologies sits within the
School of Information Technology & Computing
The B.Sc. Program in Telecommunications & Wireless Technologies is designed with core courses that provide breadth and depth in the field, along with a strong theoretical component as a foundation for a good engineering career. The program includes courses in the sciences and mathematics and an in-depth sequence of specialized computer courses.
The program provides a balance of both theory and practice on core courses covering both software and hardware through integrated lectures, laboratory sequences and individual and group projects often with direct application in the community or region.
The distribution of courses includes the fundamentals needed by every telecommunication and wireless engineer.
As the telecom and wireless industry evolves in Sub-Saharan Africa, practitioners are increasingly expected to build and maintain reliable systems for mission and life-critical applications that are affordable and applicable within the context of developing economies. Such professionals distinguish themselves with a solid mathematical, computing and engineering foundation, mastery of emerging software tools and methods, knowledge of the cultural context and experience in collaborative work on large projects. The SITC curriculum is designed to prepare our students in all these areas.
Graduates of the AUN telecoms and wireless program will also have the opportunity to earn a Cisco Certified Network Associate (CCNA) certificate and will be prepared for careers in Telecommunication Engineering and the general IT field. Some of the possible job titles our graduates can expect to hold include:
Mobile/Telecommunication Operators, e.g. MTN, NITEL, NTA, NOKIA, AUN, etc.
Consulting Engineering Firms
Information Technology firms
Engineering Sales
Ministry of Communications
Research & Development
IT Project Manager
Systems engineer
IT Director
Telecoms graduates may also opt to further their studies, in which case they can pursue graduate studies (Masters & PhDs) in Telecommunications & Wireless Technologies, and related disciplines such as IT, Information Systems, the discrete engineering fields such as electrical and electronic engineering and the more general engineering field such as Systems Engineering.
Available start dates
September 2018 / January 2019
Course Duration
Full Time: 4 years
Visit our admissions page for full application details.
Call: +234 805 200 2962
E-mail: This email address is being protected from spambots. You need JavaScript enabled to view it.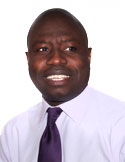 Program Chair
Abubakar Sadiq Hussaini
Assistant Professor
This email address is being protected from spambots. You need JavaScript enabled to view it.