Students enrolled in AUN's New Foundation School (NFS) program have adopted a special occasion, 'Release Day', to remember the Chibok schoolgirls still in Boko Haram captivity.
In previous years, 'Release Day' was marked with prayers and supplications to release their remaining sisters. This year, however, the brave girls from Chibok had another source of grief, and they responded in the best possible way that they could.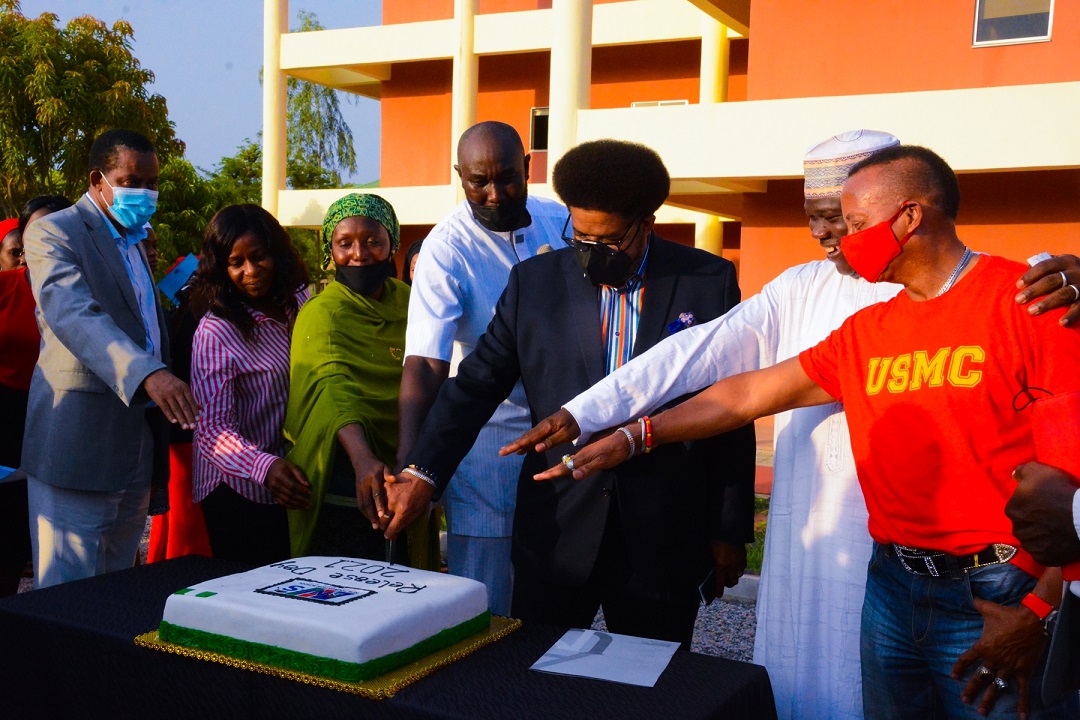 They postponed 'Release Day', earlier scheduled for May 11, in order to mourn the passing of their mentor and former Federal Minister of Women Affairs, Senator Aisha Jummai Hassan. The late politician and women rights activist, who hailed from Taraba State, died on May 7, 2021.
As Minister, Senator Hassan played a significant role in ensuring that the girls got the best available education after their release from captivity a year ago:  she brought them to the American University of Nigeria. At AUN, the girls joined their sisters who had been admitted in 2014 under the leadership of President Ensign to continue with their educational development, personal healing, and gradual community reintegration.
On June 7, they gathered in the auditorium where they prayed and paid tribute to honor the woman they described as a mother, mentor and friend.
"We have lost one of our strongest supporters, a mother and a friend to all of us at the NFS. We can never forget the role she played during the release of the ladies, the care she provided for them in Abuja, and her mentorship. We are all distraught by 'Mama Taraba's' passing. Though she is not physically here anymore, her love and light live on forever. She blessed us with beautiful memories. Heartstrings will forever connect us to infinity. May her kind and gentle soul rest in perfect peace", said Bello Abdullahi, Director of Residence Life, who coordinated the NFS.
Some of the girls also read tributes in memory of the late Minister.
"You were a great mother!
You are our hero!
Thank you for loving us unconditionally!
Thank you for Everything!" (Grace)
"What a great loss to my sisters and me!
I remember vividly when we were in Abuja; you visited us every week with gifts as your show of love.
You gave us motherly advice and your contact to call you anytime we have problems in school.
We are so sad that you are gone, mama Taraba, and we will surely miss you.
Rest in Peace Mama" (Tabitha)
"Time flies fast.
Life goes at its own pace.
But some memories can never be forgotten from the mind of the dearest ones.
You will always remain in our thoughts." (Agnes)
Reported by Rebecca Ikponwonba