School of Information Technology &
Computing
Key information

Study mode: Full-time
Course duration: 4 years
School of Information Technology &
Computing
Key information

Study mode: Full-time
Course duration: 4 years
Do you have a passion for Information Technology & Computing? Are you looking for an exciting career in the IT / Computing world? This School is the right choice for you
AUN is the right place to pursue your higher education
The School of Information Technology & Computing offers highly specialized and industry-relevant degree programs at the bachelors, master and doctoral level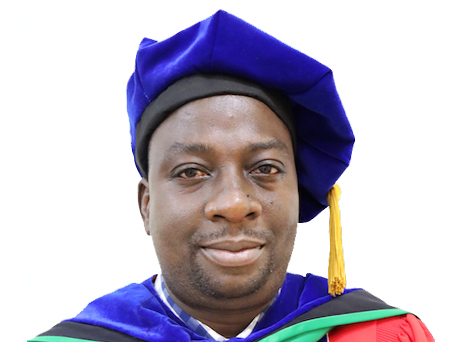 The field of IT & Computing powers the modern global economy. But it is more than just the engine of the modern economy.
View Profile
Dean's Welcome Message
The field of IT & Computing powers the modern global economy. But it is more than just the engine of the modern economy. It largely defines and directs our present service-dominated economy. Computing technology has become ubiquitous and permeates all facets of human life; from the individual through the collective to the global. Today, there is a growing imperative on society at large, and governments, in particular, to advance the reach and adoption of computing technology for socio-economic development, but also because of the growing role of computing technology as a platform for new wealth creation in a knowledge economy. In education, IT & Computing is seen as one of the core liberal arts disciplines to advance at all levels of the academic ladder in order to nurture and cultivate human creativity for problem-solving. To compute is to problem-solve and this takes root in the human mind and so is central to life itself. The essence of computer science, a core computing major, is problem-solving: to develop general theories, models, algorithms, formal languages, and mechanisms that give expression to these problems and their solutions presented in a way that other humans and machines can follow. In this regard, the computer, a general-purpose information the processing machine, and a key human invention of the last decade, serves as the medium and platform for implementation, execution, and application of the resultant solution models conceived by computing researchers and professionals.
As Africa's premier Development University, anchored on the American liberal arts education model, AUN sees its School of IT & Computing as a key pillar in its mission as a Development University and a promoter of AUN's liberal arts model through advancing computational thinking. All AUN students are introduced to the core field of computer science in CIE 111 – Introduction to Computers & Computing, taught by faculty from the School of IT & Computing. SITC offers a minor in IT for non-computing majors keen to keep abreast of developments in computing and who want to stand out amongst their peers.
SITC currently offers four (4) undergraduate and six (7) post-graduate computing degrees as follows:
BSc. in Computer Science

– which focuses on the essence and fundamentals of computing explained earlier and aims to prepare students for further graduate studies in computing or careers in industry

BSc. in Software Engineering

– a specialization of computer science aimed at nurturing students who can develop industry-strength software to address the challenges of the software industry in Nigeria and Sub-Sahara Africa and who can contribute in leveraging this important technology for socio-economic development

BSc. in Information Systems

– to nurture professionals who understand organizational structures and processes and can help to leverage IT to provide a competitive advantage

BSc

. In Data Science & Analytics – our newest addition aimed at giving students a competitive edge in new and expanding frontiers in industry, computing, finance and the service sector.
Our post-graduate degree programs include Masters (MSc) and Ph.D. degree programs in Computer Science and Information Systems each, as well as two professional Masters degrees: a Master of Science in Data Science & Analytics, a Master of Science in Information & Communication Science and a Master of Telecommunications & Wireless Technologies. We place extra emphasis in our degree programs at both levels on problem-solving, technical sophistication, and nurturing thought-leaders and entrepreneurs who can think big and aspire to become employers of labor in the growing service industry being powered by computing technology. The university is blessed with excellent computing IT infrastructure and a world-class faculty that bring on board not just academic teaching and research experience but also some with strong industry software experience from the US, Russia, and India. We are proud of our graduates: some have become founders and CEOs of their own IT companies here in Nigeria and many are employed by international organizations such as Google, Deloitte, PicPay, and PWC. A good number have received full scholarships to complete their Masters and Ph.Ds at reputable institutions such as Georgetown University, Columbia University, Carnegie Mellon University, (US) and Oxford University and Manchester University in the United Kingdom and other universities in Australia, Japan and South Korea.
These are exciting times within the field of IT & Computing with so much innovation in areas such as Artificial Intelligence, Machine Learning, Data Science, Big Data & Analytics, Cloud and mobile computing. The job and economic opportunities are huge but so too are the challenges of navigating and staying abreast of developments in this area given the fast pace of change in computing. Much hard work and dedication are required of the aspiring computing major or minor seeking to make a difference and stand out in this field. The School of IT & Computing is well equipped and ready to support you in this effort.
A warm welcome to all of you to AUN. And a very special welcome to those joining SITC for one of our computing majors whether at the Undergraduate or Graduate levels.
Happy Learning with Us!
Dr. Abel Ajibesin
Interim Dean & Associate Professor




Our faculty members come from diverse backgrounds and have the required knowledge, terminal degree, and expertise in their fields of specialization to deliver quality education. Most faculty have prior industry and teaching experience in the US, Canada, South Africa, Europe, Asia, Nigeria, Russia, or elsewhere. Our laboratory instructors are highly qualified.
Our serene classroom environment and state-of-the-art engineering laboratories provide the platform for developing problem-solving strategies that build students' competencies and capacities in emerging technologies such as:

Artificial Intelligence (AI)

Machine Learning

Embedded System

Robotics

Big Data, and Internet of Things (IoT)

Nanotechnology

Clean and renewable energy

Membrane technology
Students are exposed to the fundamentals of design, implementation, testing, and industrial application in the modern field of computing, as well as operating at the cutting-edge of technologies.
Our students will be exposed to senior design projects, industrial training through practical industry internships, projects, and exchanges.
Applied industry experiences are key and unique features of AUN's computing education.