On Monday, January 23, Interim President Professor Yusuf Attahir received Cristian Munduate, the United Nations Children's Fund (UNICEF) Representative in Nigeria, who was visiting the American University of Nigeria to consolidate ongoing collaborations between the two institutions.
Ms. Cristian Munduate arrived at AUN accompanied by a high-powered delegation from UNICEF, which included the Chief of Field Operations, Mr. Opiyo Nixon; Chief of Bauchi Field Office, Dr. Tushar Rane and head of the Communications Office, Mr. Rajat Madhok and other UNICEF officials.
Interim President Professor Attahir Yusuf, who received the delegation in his office, explained that AUN places a high premium on its partnerships with UNICEF. Professor Attahir commended the United Nations agency for deploying its resources and ideas to collaborate with the University in offering a hybrid Master's in Communication for Social and Behavior Change program, which will begin as soon as the National Universities Commission (NUC) gives the final approval. The President singled out UNICEF staff for special commendation, noting that their professional work attitude, dedication, and hard work have been exemplary.
On other AUN-UNICEF collaborations, Prof Attahir reiterated AUN's unwavering commitment to impacting the local community.
"As a Development University, we place special emphasis on the education and empowerment of the community, especially women and children, and we have the tenacity and resources to focus on this actively. We are very proud of the Feed and Learn program and excited to have the interest of an international organization like UNICEF". Chair of the Committee of Deans, Dr. Patrick Fay, and other academic leaders was also at the event.
The UNICEF Country Representative, Ms. Cristian Munduate, said she is delighted with the University's mission on development and empowerment, which strongly reflects its commitment to the society and country. She applauded AUN for "setting your priority on educating and empowering young minds," adding that "UNICEF is confident in partnering with AUN to carry out the mandate of providing progressive education for society's ever-growing youthful population."
As part of their itinerary, Ms. Cristian Munduate and her team were at the North Campus to observe a session of the AUN-UNICEF Feed and Learn program, where out-of-school children from the local community receive basic education and receive a meal per day and to interact with the coordinators as well as beneficiaries of the intervention program.
Cristian Munduate, who described her first visit to Yola as necessary because of the need to work within communities and with community leaders to support and promote the rights of women and children, commended the success of the Feed and Learn intervention and its visible impact on the beneficiaries.
"I applaud the concept behind this initiative, particularly in light of the negative impact out-of-school youth have on the development of our society. It is highly commendable that AUN dedicates its resources, expertise, and personnel to finding solutions to the community's problems. I strongly urge you to promote a deeper understanding of the importance of education for affected children, their parents, and society as a whole. UNICEF will approach the situation with a high degree of accountability and provide sound strategy and technical assistance toward this objective."
Chief of Party AID, Dr. Audu Liman, and the coordinator of the AUN-UNICEF Feed and Learn program, Mr. Raymond Obindu, to receive the UNICEF team at the North Campus.
Dr. Liman described the visit as timely, given that the program is leveraging all available resources to upscale access to basic, high-quality education in the northeast.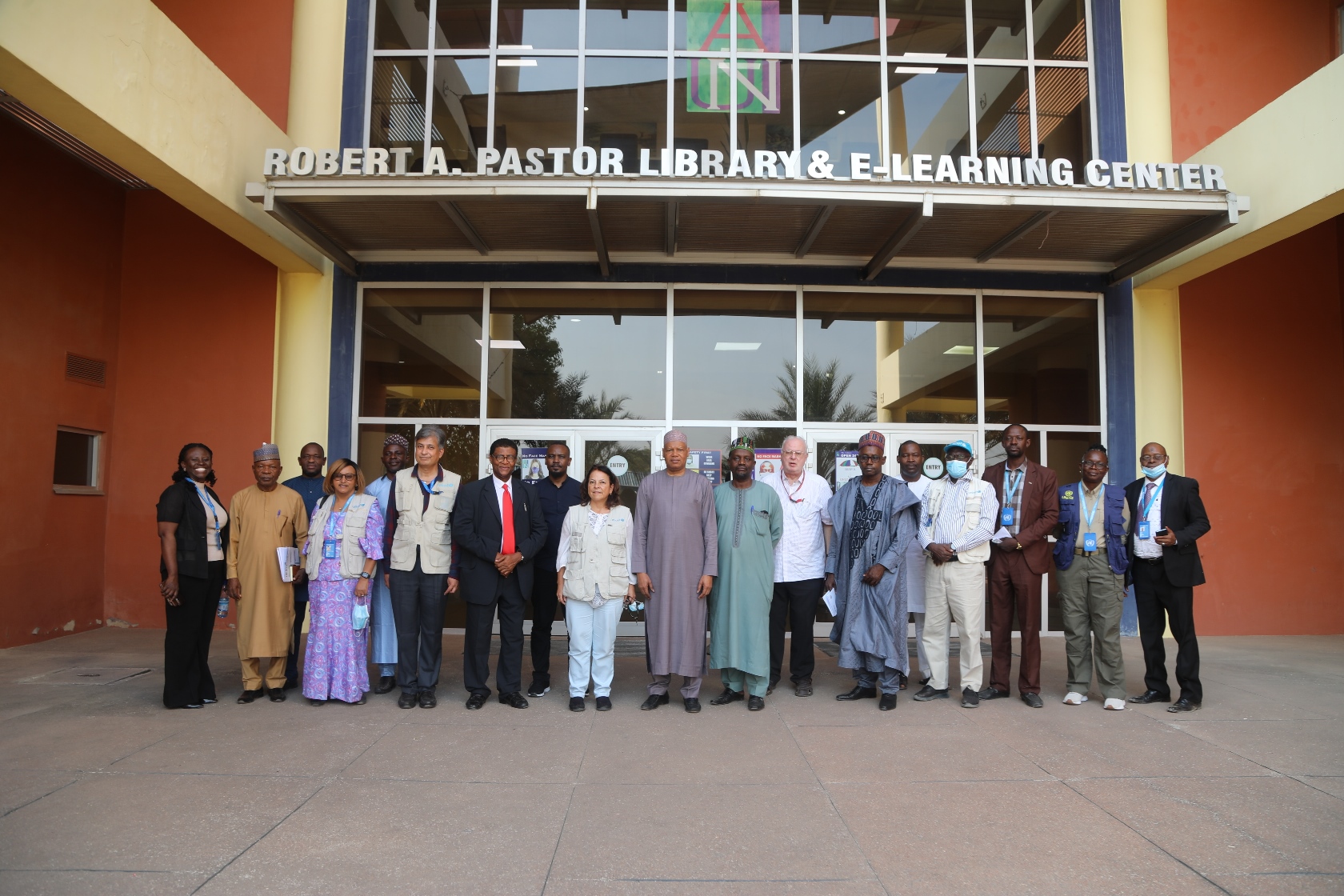 A former Minister of Social Welfare in Guatemala, Ms. Cristian Munduate was UNICEF Country Representative in Panama, from where she came to Nigeria. She holds a master's degree in technology and administration of resources and a bachelor's degree in civil engineering.
Reported by Tina Bitrus