Kidnapping has become endemic and a national concern here in Nigeria.  And now, from the American University of Nigeria, a new hi-tech weapon against it has just been unveiled.
On Friday, November 19, 2021, faculty and students of AUN's School of Information Technology & Computing (SITC) introduced an advanced anti-kidnapping tech device before a capacity audience.
The Yawo Anti-Abduction Emergency Response System (YA-AERS) is an innovative, state-of-the-art design that uses Radio Frequency Spectrum (RFS) that allows communication to be made freely--without using mobile phone services and all the connectivity problems involved. 
The YA-AERS is a genuinely innovative and different emergency response system because it has unique features and operational capability adapted to local conditions.
First, the YA-AERS has a long transmission range of 100kilometers, and that can be extended to cover an even longer distance. Second, it can broadcast signals to many locations, with a screen for displaying the signal received. Third, it has an alarm and can be used for up to six months without needing a recharge, all due to its low power consumption.
The YA-AERS is the brainchild of six AUN ICT faculty and students and two external telecom engineering experts. The team is led by Dr. Abubakar Sadiq Hussaini, Professor of Telecommunications and pioneer HOD of AUN's School of Engineering.  He was inspired by a desire to create a system that can prevent kidnapping and abduction in schools in Nigeria.
"We wanted to show how the Radio Frequency Spectrum  (RFS) can be applied in the security sector to solve a national problem. With YA-AERS, you do not need to dial a number or an SOS number; you just press a button".
"In Nigeria, it is common knowledge that we have connectivity issues, and we might not be able to communicate to the police or security agencies when we are in distress. This device overrides all the identified hitches".
"We have receivers that can be attached to a big screen in security offices. If the button is pressed when there is distress, an alarm will sound and will not stop until it is turned off".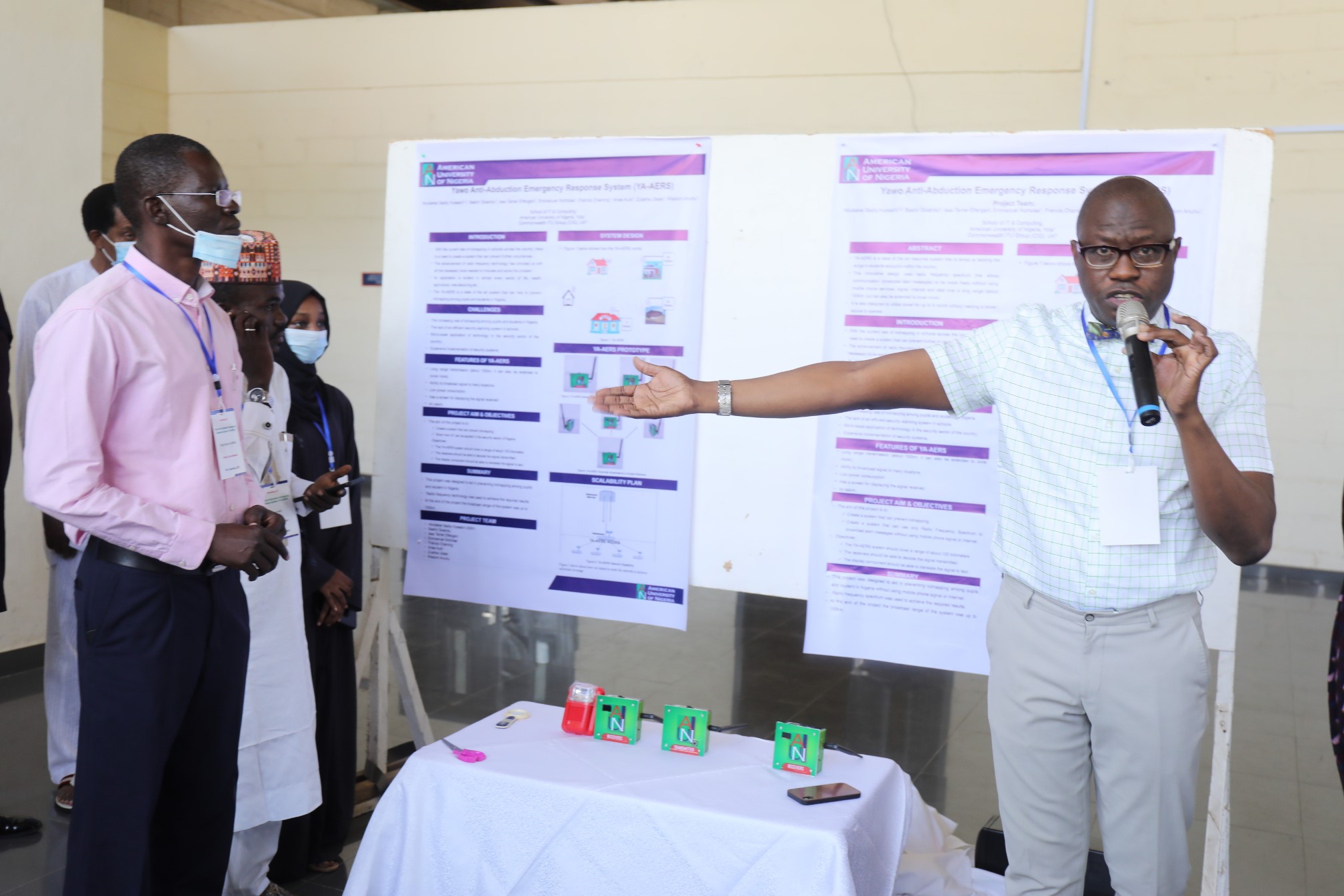 AUN Professor Abubakar Sadiq Hussaini, a microwave radio transmission operations and senior maintenance engineer formerly with Nigerian Telecommunication Limited (NITEL), earned his Master's and Doctorate degrees in Telecommunications Engineering from the University of Bradford, in the UK.
A member of IEEE, IET, EFN, and the Optical Society of America, Professor Abubakar Sadiq has contributed to numerous publications and is involved in European and CELTIC research projects. In 2018, the Nigerian Government nominated him as a candidate for Secretary-General of the African Telecommunications Union (ATU).
Other team members include: Engineer Francis Chaming, AUN's Chief Technology Officer; Dr. Bashir Gwandu, Chairman, Commonwealth ITU Group; and Dr. Issa Tamer Elfergani, Senior Research Engineer at Innoinspire Limited, UK.
They were joined byEng. Emmanuel Nicholas, Anas Audi, Zulaiha Ubale, and Wisdom Anuhu.
President Margee Ensign congratulated the team on their innovation. "We are a Development University, and this is another example of us fulfilling that role, understanding that role, and giving back to the society as we address another societal issue that impacts all of us. We are proud to be on the cutting edge of creating something that's going to be important to the security of education in Nigeria."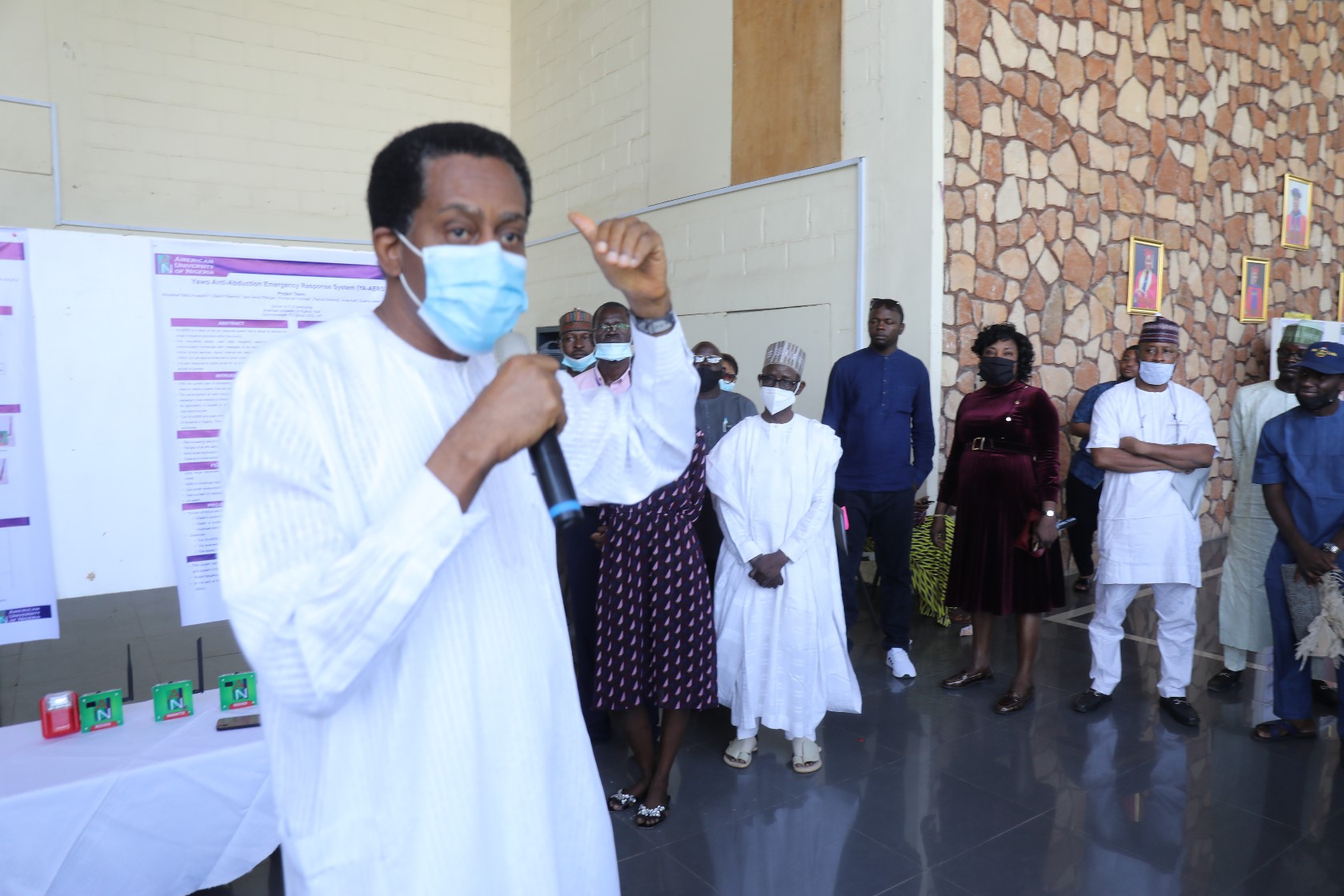 Vice President for Finance, Mr. Olanipekun Olanrewaju, commented that:
"The good thing here is that there will be no need for any base station and you can imagine if this was in place in Nigeria before those kidnappings, more than 70% of it would have been avoided. So YA-AERS should be introduced to the larger Nigerian society as it will go a long way to solve problems, not only of kidnapping but other of challenges like fire; and it can be placed in strategic areas in schools, homes and other public places".
YA-AERS will be introduced to a wide national audience at a later date.
Reported by Halima Muhammed