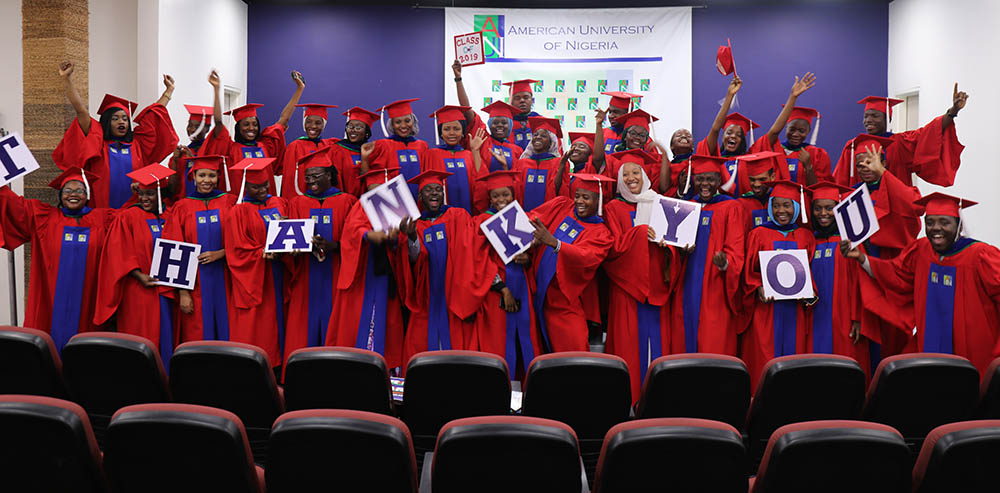 The Commencement (Graduation) Ceremony at the American University of Nigeria is an annual event that celebrates the hard work and remarkable accomplishments of the graduating classes.
The 2021 Commencement is the twelfth in the series and it will be a unique combined ceremony for the cohorts of 2020 and 2021. The Covid-19 pandemic of 2020 impacted on our lives and campus traditions in different ways. It also offered educational institutions like AUN the opportunity to work meaningfully with change and embrace new approaches that limit health risks during annual indoor events such as "live" graduation celebrations with families and friends. At this commencement, the University is adopting the hybrid (in-person and virtual) graduation encouraging virtual attendance and celebrations by families and friends of graduating seniors. This will enable the University implement and observe Covid-19 safety protocols. 
The AUN Commencement consists of three major segments: Senior Week, the Graduation Awards Ceremony, and the Commencement (Graduation) Ceremony.
Senior Week
The Senior Week comprises activities designed for the graduating seniors. These include Life After College and the Senior Ball which are organized to prepare the seniors for the challenges and opportunities of life after university, and also celebrate their amazing milestones! The dates are Monday, 5 July through Saturday, 10 July 2021.
Graduation Awards Ceremony
The Graduation Awards Ceremony recognizes the academic accomplishments, dedication to service and outstanding contributions to civic engagements of our undergraduate and graduate students. This ceremony is in two parts: AUN Honor Society Awards Banquet and the Graduation Awards.
The AUN Honor Society Awards Banquet is for the graduating members of the AUN Honor Society and it celebrates the exceptional services and exemplary leadership of graduating members of the Honor Society. The banquet is scheduled to be held on Thursday, 8 July 2021.
The Graduation Awards ceremony is for all members of the graduating classes and their family members. At this ceremony, we will present nearly 50 awards to the combined classes of 2020 and 2021. The event is scheduled to be held on Friday, 9 July 2021.
Commencement (Graduation) Ceremony
The Commencement Ceremony is the grand finale as we confer bachelor's and master's degrees; and postgraduate diplomas to eligible candidates.  We will also witness the graduation of both our pioneer School of Law students and the first Doctor of Philosophy recipient. 
The twelfth Commencement Ceremony in honor of the successful classes of 2020 and 2021 is scheduled to be held on Saturday, 10 July 2021.