Friday, 28th May 2021 was an outstanding day in the lives of selected students of Model Central Nursery and Primary School, Yola. Sixteen AUN Law students were the reason the day was joyful. As a development university, the American University of Nigeria (AUN) is known for the active promotion of community service. The law students shared that characteristic goodwill.
"We are currently celebrating our Law Week. We have had many activities from Monday till now, and one of the activities of the week is community service. We discovered that several orphaned students need school uniforms. So we decided to put money together and get new ones for them." President of the Law Students Society, Christine Vihishima Said.
The students donated fifty complete uniform sets to fifty students. They also gave out forty-two pairs of trousers to the students. This indeed put smiles on the faces of ninety-two students.
AUN Law student, Esther Odumu expressed joy at being able to support the project. She had become accustomed to a life of giving even before joining the AUN community.
"I've always been passionate about community service. My parents have a nongovernmental organization. So I've always had an avid interest in community service. It's a lifestyle in my family... I love what we've seen; I love how receptive the students are to us, and I'm glad that I'm here." She said.
After the distribution of the new school uniforms, AUN law students, Model Central Nursery, and Primary School students, and well-wishers took photographs to seal the precious memory in time.
The school's Head Teacher was overwhelmed with gratitude.
"This visit is very much appreciated. Some students come to school in torn school uniforms. At times, we the teachers use our money to do what you, have done. We do hope that students from other universities will emulate what you have done. Since our students who need replacement of uniforms were more in number than the available new uniforms, I collected some uniforms by myself so that I would give pairs of trousers to some students while some would be given just shirts. As for those who won't be given either of the two, we'll console them by telling them that the students of AUN would come back for them."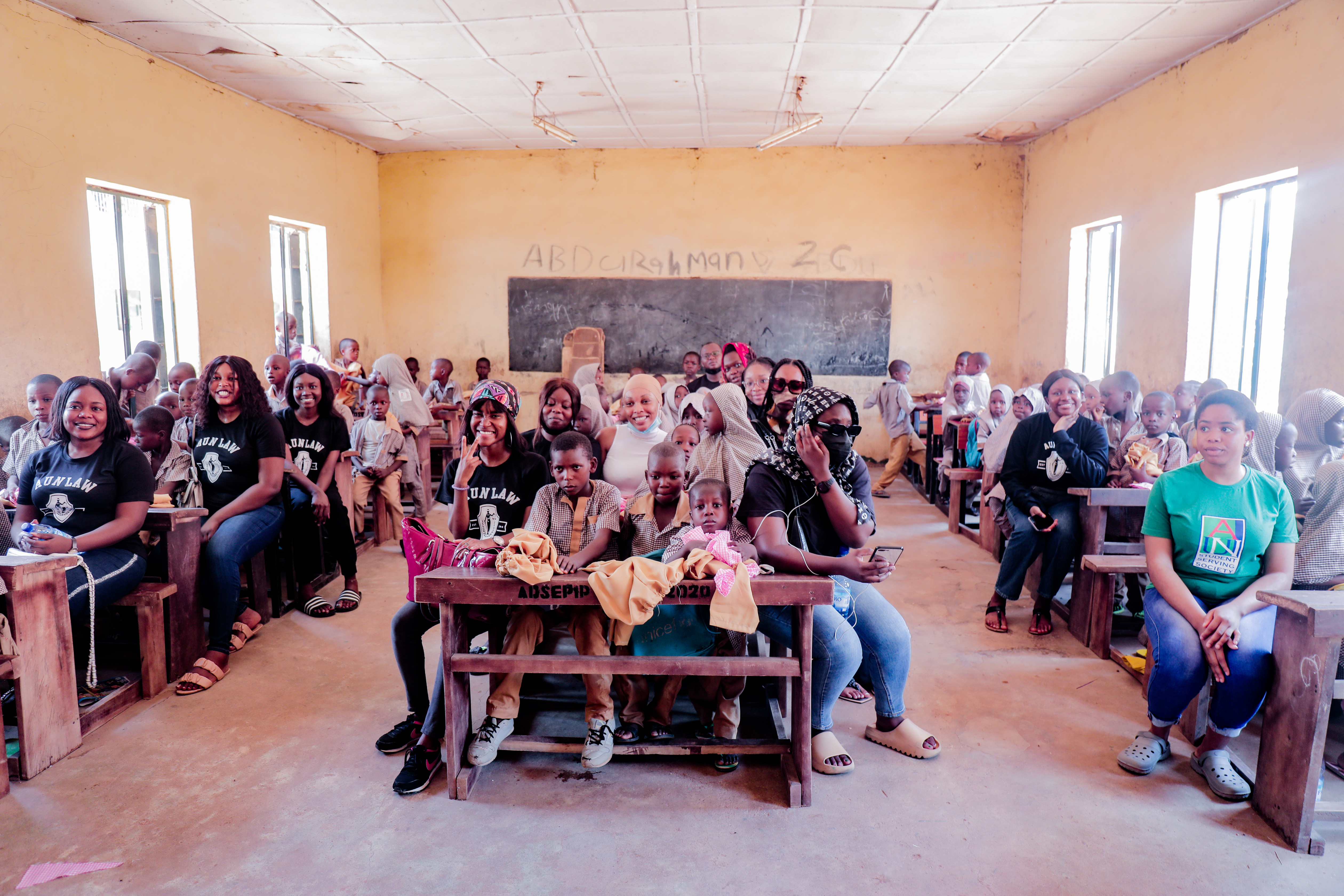 Reported by Esther Onyinye Ofeli